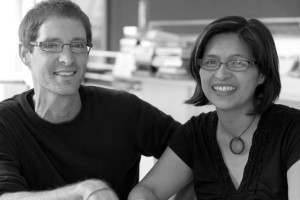 Our Mission:  To design warm, soulful, energetic spaces that engage, inspire and connect.
Marites and Keith married in 1991, moved to Berkeley from Ohio and began working at East Bay firms, primarily on rebuilding after the Oakland hills fire. But in 1993, Keith worked on a series of Noah's Bagels stores with Kahn Design, launching his work in food retail design.  In 2000, Marites designed A Cote,  her first restaurant (with Mark Becker Assoc)  and in 2003 they officially opened Abueg Morris Architects.
We have 25+ years of architecture experience individually, and together as ABMO Architects, we we have designed over 40 food related projects (see complete list below).  Our partnership gives you a perfect balance of technical and creative skills, architecture and interior focus, and detail and big vision thinking. We are a full service firm, and can provide architectural design, interior design, construction documents, permitting and construction administration or any combination of the above.
WHAT WE DO
We LISTEN (we're serious about this, ask our past clients). We ask questions. We listen again. We absorb your brand. We eat your food. We digest your words. We look at things upside down. We measure . We sketch. We visualize in 3D. We act things out. We mock things up. We pin. We clip. We shop sales. We talk numbers. We simplify, unify, and edit. We meditate. We talk to experts, We mobilize a team. We deliver your concept in three dimensions, with a little help.
WHAT WE DON'T DO
Cut and paste decor or design.
Rely on formulas or easy trends.
Push our own agenda.
Create soul less spaces.
Forget about your business vision, your customer base, your employees or your budget. Or any of the people using the space.
How WE'RE different from other design firms

Our designs are unique to you and your vision. It is too easy to take the latest Pinterest trends and fill your space with them.  What is much harder, and much more interesting, is to engage in the process of dissecting the qualities of your business and vision, and translating that one-of-a-kind quality into spatial experience.
 We focus on human comfort and experience. What does the space sound like? How does this seat feel? What is the light quality? How does this space affect my sense of well being, support community and camaraderie, and a connection to others? Does the space reflect care in our business and service?
Our designs are warm. We prefer a clean aesthetic, but we balance this with texture, color, warmth, human scale, and purposeful and thoughtful and mood-enhancing lighting.
We focus on people. We love our work, but we love the people we work with even more. We love our clients and the teams we build with them. Over the years we've developed countless relationships with contractors, fabricators and vendors, and each person has unique gifts and expertise that adds value to your project.

TESTIMONIALS
"Marites and team at Abueg Morris Architects are the minds behind the interior design.  They took my verbal vision and have transformed it into a beautiful masterpiece with interesting textures, colors, finishes, and details.  All perfectly in tune with my brand.  I love what they came up with and I think you will too. "
-Emily Day, Flour + Co.
from her blog post:  The Journey of Flour + Co.
"Better known as Abueg Morris Architects, Keith and Marites are the people responsible for turning our vague concepts into concrete realities.  Keith is a technical expert who helped us figure out how to create a functional kitchen in our tiny space, and who walked us through the complexities of making a restaurant comply with the building and health codes (as a side note, there are some really crazy rules lying around those code books).  Marites is the design guru who was able to understand our vision and come up with things like color schemes and lighting design to reflect the feeling we want the space to have."
-Erin Wade and Allison Arevalo, Homeroom
from this blog entry:  The Vision Behind Homeroom
"Abueg Morris is team dynamo! I engaged Keith and Marites to help us design our new restaurant (BUILD Pizzeria Roma) in Berkeley, and they couldn't have been a better fit for us! As a hospitality designer, I've worked with many architects over the years, and I can't say enough about their talent, knowledge of the industry, efficiency, and ease to work with.

Having a great architect/design team to help owners and developers manage the process of opening a food service facility is a MUST, and these guys are fantastic. They consistently came up with creative solutions that were budget-friendly, and their knowledge of the intricacies of the code requirements is extensive. We had to push to get documentation done ASAP, and we sailed through with only one set of small revisions, thanks to Keith and teams' effort. I'm looking forward to using them again as we expand BUILD, and open additional projects as well. I won't go forward without them on the team!" -Lisa Holt, Build Pizzeria
COMPLETE PROJECT + CLIENT LIST

UNDER CONSTRUCTION
Itani Ramen, Oakland
Live Music Venue and Restaurant (no name yet), Berkeley
Roundhouse Market, Bishop Ranch, San Ramon (with IA)
Eatsa, San Francisco
Asha Tea 2, San Francisco
Parada, Walnut Creek
Flour + Co., Berkeley
Proper Food 3, San Francisco
Soma Wines, San Francisco
COMPLETED
Proper Food, 1 and 2, San Francisco
The Chairman, San Francisco
Lazy Bear, San Francisco (consultation)
Chez Panisse, Berkeley (ongoing consultation)
Soma Eats, San Francisco
Verbena, San Francisco
Commonwealth Micropub, Emeryville
Torc, Napa
Hog's Apothecary, Oakland (permit and consultation)
Ferry Plaza Seafood, San Francisco
Kasa Indian: Polk and Pine Streets, San Francisco
Hi Lo BBQ, San Francisco
Flour & Co. Bakery,  San Francisco
Build Pizzeria Roma, Berkeley (in collaboration with DLS design)
Comal Restaurant, Berkeley
Nopalito and Nopalito 2, San Francisco
Prather Ranch Eatery and Retail Meat Shop, San Francisco
Roam Artisan Burgers, San Francisco
Bun Mee, San Francisco
Homeroom, Oakland
A Cote, Oakland
Easy Breezy Yogurt, San Francisco
Wine Kitchen, San Francisco (permit only)
El Huarache Loco, Marin Country Mart, Larkspur
Three Twins Ice Cream, Marin Country Mart, Larkspur
Burma Superstar, Oakland
B-Star, San Francisco
Venus Restaurant, Berkeley
Tomatina, Berkeley
Renee's Place, Albany
Becky's Chinese Restaurant, Oakland
Marica Restaurant, Oakland
OTHER COMMERCIAL
Ancient Organics Ghee Production Facility, Berkeley
Abet Laminati Showroom, Richmond, CA
Fit Glen Fit, Private Fitness Studio, San Francisco
AOC SF, Offices, San Francisco
Kochan and Stephenson, Law Office, Berkeley